Our Doggy Daycare Program
Whether restless, bored, or just lonely our daycare can help your dog meet new friends and have endless fun.
In addition to socializing your pet, daycare is a great outlet for excess energy, reducing behavioral problems and keeping your dog in top condition. We provide a fun and safe daycare experience for your dogs who are assigned to playgroups by size, temperament or age. Our amazing, trained staff keeps a watchful eye while interacting with your dog continuously. Daycare dogs have both morning and afternoon playtimes in addition to scheduled feeding and rest times. We would love to see your dog be part of the fun! 
Book a full or half-day of daycare with us! Click the button below.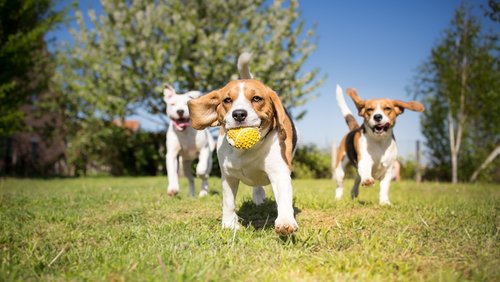 Daycare Details
Playgroup Compatibility Evaluation is required prior to the first day of daycare so we can make sure pups are placed into the best groups for them.  
Included
• Social play mixed with rest time throughout the day
• Private den during lunch and feedings (unless sharing with siblings)
• Medications can be administered at no extra charge (injections $5)
Drop-off & pick-up times
• Daycare drop-off is anytime between 7am – 9am.
• Pick-up is by 7pm ($10 late pick-up fee charged per pet for pick-up between 7pm – 8pm)
• If pick-up after 8pm, then dog becomes an overnight guest in a doggy den
• Early drop-off: Drop-off for these services can begin as soon as we are open at no extra charge. Monday – Friday we open at 7am. We can accommodate earlier drop-offs ONLY if arrangements have been made ahead of time.
Pricing
• $29 full day (1 dog)
• $21 half day (1 dog)
• $23/dog for additional dogs from the same family
• $30 required initial Playgroup Compatibility Evaluation (available by appointment only) – HALF DAY
Packages
• $140 5 full daycare days
• $270 10 full daycare days
Pricing subject to change. Please log in or create an account for the most accurate pricing information.
Certifications & Memberships